Part 2: Briefs and Concepts
Brief Preparation
In each year of the program, a brief was prepared and presented to the five participating students.
Australia
The Australian briefs were prepared by a team of Sydney Opera House staff in consultation with a number of external consultants, partners and the host firms. The process involved interrogating the ongoing and evolving requirements of the Sydney Opera House building's functionality, to generate a project case.
Key considerations in crafting the brief include the Sydney Opera House's Heritage and Conservation Plans, the Utzon Design Principles, and the Artistic Strategy. Other considerations added at the time of preparing each year's brief included: the Building Renewal (2015), the Conservation Management Plan (2017), the Environmental Sustainability Plan (2017) and the Social and Community Action Plans including Accessibility, Reconciliation and Artistic Strategies from 2019.
Denmark
The brief for the Danish programs were similarly created in collaboration between host firms, professional mentors and alumni mentors. The Danish projects were fictional, but related to either a professional focus or tasks at each host firm. The Utzon focus in the Danish briefs varied from year to year, but generally the focus was translated to a wider interpretation of the Nordic design approach. This was supported by study trips to Utzon buildings in Denmark, and at Can Lis on the Spanish island of Mallorca, where students could experience life in an Utzon building.

Approach
Students were placed at a host firm for six weeks, to work as a multidisciplinary team responding to the brief and delivering a final proposal. During those six weeks, students collaborated with respected built environment professionals including Jan Utzon, Richard Johnson (JPW) and Alan Croker who provided both technical advice and mentorship. They also participated in study tours, masterclasses and workshops relevant to the program.
Learn more about the program inclusions in Part 1
Every cohort commented on the challenges of working collaboratively in a team with such varied perspectives. One method introduced by the Danish participants was a social contract to support setting personal boundaries. The Can Lis trip also offered team-building opportunities.
Here we present a snapshot of all 18 projects delivered by the 89 MADE students, written in their own words. This includes two projects per year except in 2020-2021, when only one project per year was delivered due to the COVID disruption. These summaries include the brief, an overview of their approach and final proposals.
Scroll through all 18 concepts or use the navigation menu above to select a year.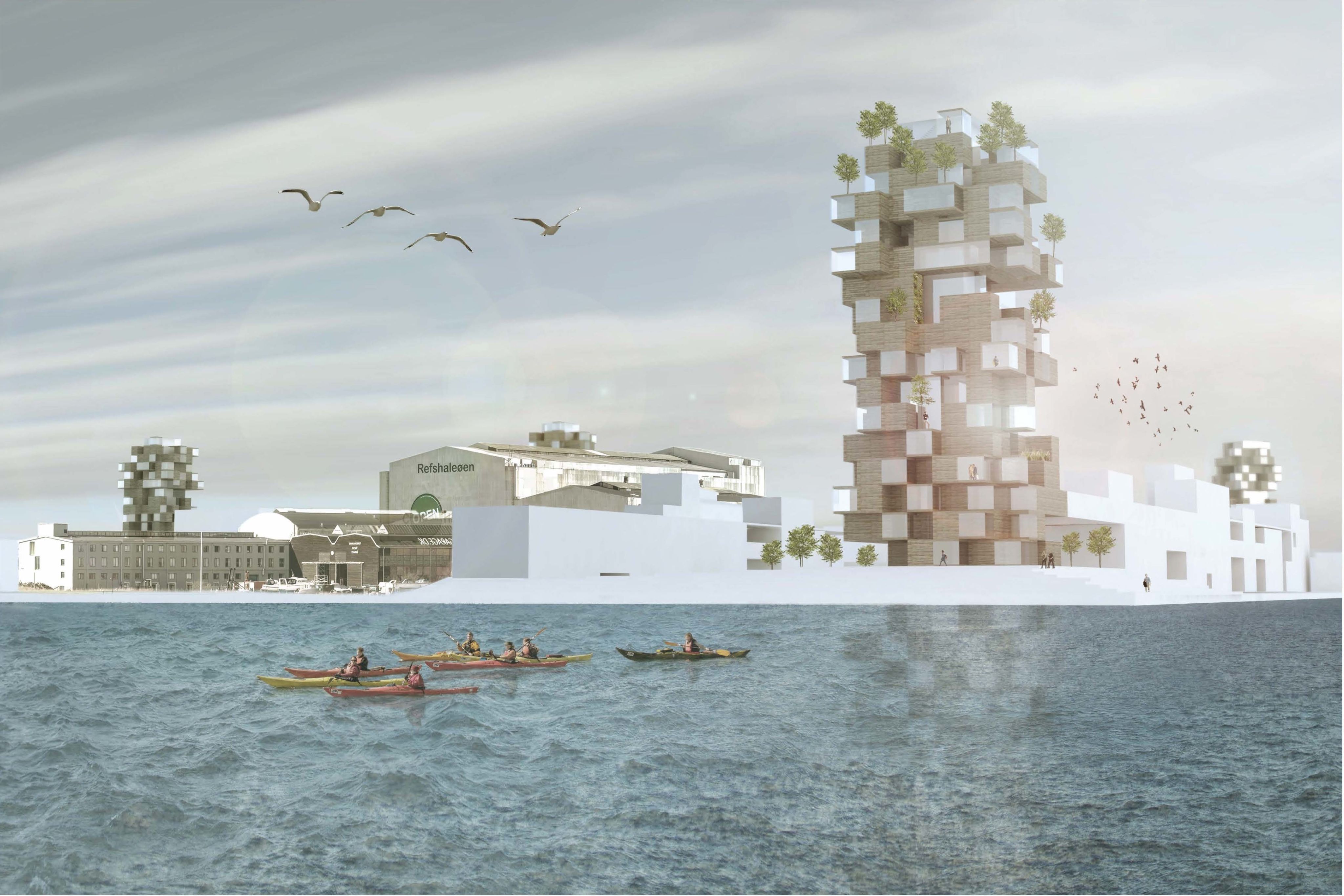 2014 Danish Program
Host Firm: Henning Larsen Architects
Students: Laura Craft, Robert Martin, Jennifer McMaster, Olivia Savio-Matev, Matthew Wells

Original brief
Can the Eurovision build a city? The Brief asks the students to develop a 'Catalogue of Ideas', a vision for the redevelopment of Refshaleøen (a former industrial waterfront site in Copenhagen), leading up to, during and after the event of the Eurovision Song Contest in 2014. Students must analyse and consider not only the infrastructure and building challenges connected with hosting the event in the old Wharf district, but also to evaluate the social, economic and resource aspects of any future urban and regional development.

Student approach
We did a first-round charette where we all drew our initial impressions, ideas and approaches and overlaid these individual interpretations to create a scheme that captured all these unique perspectives. Given the urban setting and scale, sought had to balance a big-picture approach with a finer-grained approach at a human scale.

Final proposal
We proposed a mixed-use scheme with a range of building types — residential apartments, leisure spaces, infrastructure and landscape. Our ambition was to develop the site gradually, while regenerating and planting the surrounding landscape, allowing this relatively new part of the city to grow and develop organically into a liveable and lively place. The buildings we proposed were bold in vision and scale, with more delicate and intimate landscaping to provide a necessary counterpoint.
2014 Australian Program
Host Firm: Hassell
Students: Caroline Richardt Beck, Jakob Holmqvist-Larsen, Pernille Krieger, Jonas Snedevind Nielsen, Karina Korsgaard Jensen
Original brief
How can Sydney Opera House create a unified expression and deepen its visitor experience for future generations? Students are asked to produce a precinct strategy across multiple scales: An urban masterplan for the Opera House Precinct that addresses the user requirements, and a Built-environment prototype(s) that embodies one or multiple aspects of the urban holistic strategy.

Student approach
With fresh eyes, we did a thorough mapping of objects and obstacles that cluttered the spaces, referencing a flow study that traced both the 'bucket-list visitor' and 'opera enthusiast'. We also dug into Utzon's original drawings and visions in dialogue with (for example) Glenn Murcutt and Rick Leplastrier.

Final proposal
We proposed a clear signage strategy that removes any unnecessary objects or commercials cluttering the front plaza. We introduced a proper food market on the lower concourse to democratise the space and outline a natural movement to the Opera House and opened up the smaller shell on the plinth to become a welcoming visitors' centre.
2015 Danish Program
Host Firm: COBE
Students: Alex Crowe, Julianne Lipman, Alasdair Mott, Nina Tory-Henderson, Nicholas Werrett
Original brief
Imagine a future use and development of the site of Pakhus 54, following the main principles of the Nordhavn strategy to achieve a sustainable, liveable city. The program must be mixed-use, with both housing and a public cultural function. The site has to be densified, and its existing warehouse preserved, at least partially. The program must preserve and enhance the qualities of the future surrounding public spaces and sidewalks, and include good outdoor space for residents.

Student approach
We first spent time understanding the site, community and context. Then we looked at how we might approach the precinct and worked with our mentors to create a dynamic community meeting space.

Final proposal
We created a mixed-use retail residential space that would become the heart of the Sundmolen community. Across the three building levels we inserted spaces for a Community Centre and City Hall, based on their aspect and connection with the city skyline. On the rooftop we proposed a natural water filtration system that service vibrant new native garden areas.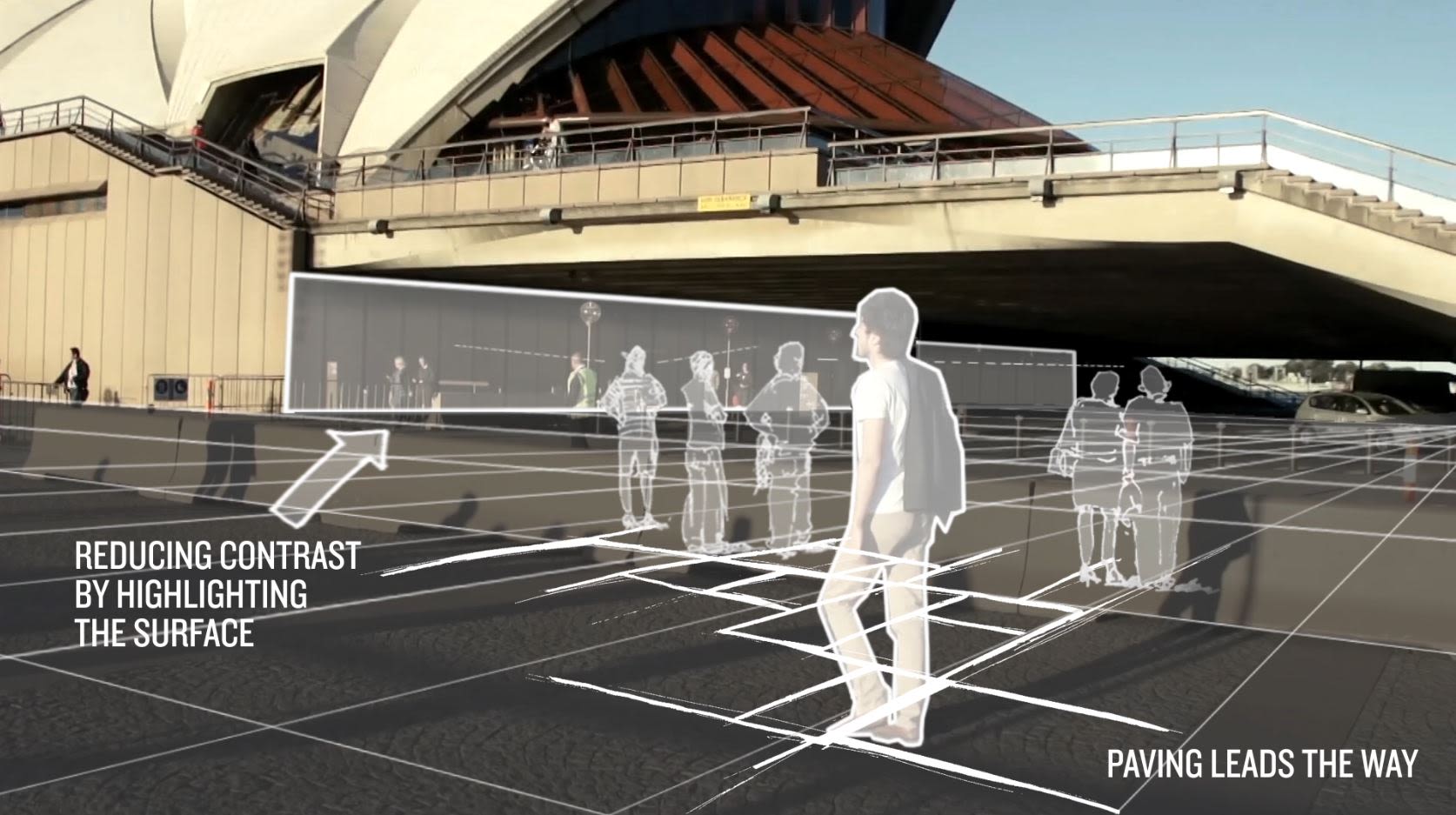 2015 Australian Program
Host Firm: PTW Architects and ARUP
Students: Arnþrúður Gísladóttir, Signe Møller Rosendal, Birthe Wohlenberg Mai Alexandra Bogø, Mathias Ørum Nørgård
Original brief
The task is to transform the Vehicle Concourse of the Sydney Opera House into a vibrant visitor's destination called 'Under the Steps' — a pedestrian-oriented space that enhances the overall visitor experience at Sydney Opera House. Under the Steps is envisaged as flexible space catering for visitor arrival and entry into the building, formal and informal events, productions and public gatherings.

Student approach
Through a user-centered design process, we observed user behaviour, defined values and priorities, made small interventions and developed a concept we thought would meet the needs of locals, visitors and other Sydney Opera House stakeholders. The concept integrated architecture, engineering and design elements holistically to improve the human experience of the vehicle concourse.

Final proposal
Entitled Under the Steps, our proposal was for an exterior foyer that enhances Utzon's intended visitor journey from the ordinary to the extraordinary worlds. A multifunctional space that can be used for pop-up outdoor events, pop-up street food, a gathering point for locals, exhibitions of concerts in the Opera House and more.
2016 Danish Program
Host Firm: 3XN
Students: Callum Coombe, Lachlan Finn, Deirdre Mair, Adriana Prasnicki, Andrew Weetman
Original brief
Holmen (Danish: The Islet) is a water-bound neighbourhood in Copenhagen, occupying the former grounds of the Royal Naval Base and Dockyards. Students are tasked with creating a new co-working space here, in what is rapidly becoming a vibrant, mixed-use part of the city. Three topics must be explored in developing the proposal: social, environmental and historical sustainability, and the floor space should be increased by 50 percent.

Student approach
We felt that understanding co-working in the Danish context was key to designing a great conversion. We spent a lot of time researching and understanding this. By luck or design, the office of 3XN was in an adjacent boathouse that had already been successfully converted — a big part of the challenge (as we saw it) was to have a commendable point of difference to our host firm.

Final proposal
At the heart of our proposal was the roof: the existing boathouse was essentially constructed from a repeating timber portal frame. We used parametric modelling to deconstruct and reconstruct the timber frame into its constituent parts so the roof form transitioned from pitched at one end of the building, to flat at the other. The resulting new roof shape allowed a second story to be incorporated into the building, thereby expanding through alternation, not addition. This approach respected the heritage value while sustainably adapting the site for the new program and future use.
2016 Australian Program
Host Firm: Grimshaw
Students: Sofie Angelie Bendtsen, Nanna Rose Broch, Daniel Miroslaw Krajewski, Michelle Kühl, Jack Perry
Original brief
Students are asked to develop a 'kit-of-parts' for temporary outdoor event structures that are exciting, beautiful and sustainable, and that enhance the Sydney Opera House Precinct. It could be a single, or a series of temporary structures that are adaptable to a variety of programmatic uses. They must respond to the significance of this world heritage-listed building and celebrate Utzon's legacy, while providing new space(s) where creative expressions of all kinds are visible, valued and accessible to the public.
Student approach
We explored a modular system that could serve different purposes and be easily produced. Our approach was also influenced by the existing crowd control barriers used at the Opera House, as they divide and exclude, which seems the opposite of Utzon's vision and the Utzon Design Principles.

Final proposal
Based on our observation and analysis of defining ground rules, we proposed a modular kit of parts that performs the three 'Bs': barrier, bench and booth. Our functionality-based proposal included studies of materials, colour, modular extension, wind practicality and jointing system. This was compiled into a catalogue of 19 elements with assembly instruction, an on-site placement rules including guidelines for interactive and adaptation to event type and scale.
2017 Danish Program
Host Firm: Spektrum Arkitekter and Steensen Varming
Students: Eleanor Gibson, Jacob Levy, James Hansen, Awkar Ruel, Nicola Shear
Original brief
Nørrebro is the smallest, but most densely populated district in Copenhagen, with a population (in 2012) of 76,000 people, living in an area of 4.1 km2 — which is more than 18,000 residents per km2. MADE students are asked to design a public square and community building at Nørrebro, relating it to the physical and social context, consulting with locals and integrating their needs and suggestions. An overarching focus is carbon neutrality, and minimising risk in future climate-change events.

Student approach
We hosted community events, met with the local council and surveyed people on which indoor and outdoor activities they thought would work best in the area to bring people together. Our research told us how and when people used the park, and which future programs would be most viable. At our design brainstorming sessions, ideas were decoupled from their authors to encourage free thinking and leverage individual specialities. Removing personal ownership of ideas allowed constructive questioning to develop the design proposal.

Final proposal
The Hill: after rigorous testing against a set of social and environmental parameters, our proposal took the form of a large hill built up against the existing LIDL supermarket, with both indoor and outdoor spaces for public performance, climbing and local markets. The park's greenspace and the arrangement of functional areas was designed to reconnect previously unused site areas, with new bicycle and wheelchair paths to improve accessibility and circulation. Sustainability and carbon neutrality were addressed with a layered heating strategy and rainwater management systems, utilising a sizeable existing skate park.
2017 Australian Program
Host Firm: BVN
Students: Antonia Szabo, Charlotte Ea Brandt, Emma Helene Rishoej Holm, Mads Kjaer, Tobias Skov Pedersen
Original brief
Honouring the Utzon Design Principles, the task is to create a new Welcome Centre, an engaging space that deepens the visitor experience of Sydney Opera House. The site location is within and adjacent to the podium, at the southern end of the Western Foyer. The project should explore human interaction with site, building and space, in search of the most elegant, respectful, practical and sustainable solution.
Student approach
Instead of working with the appointed site, we suggested a visitor center inside the tarpeian wall across from the grand staircase, in connection with the forecourt where you find the most pedestrian activity. This would allow the visitor to experience arrival at the grand staircase as Jørn Utzon intended — to then turn around to discover the new Welcome Centre, leading them into the building.

Final proposal
In the new Welcome Centre, visitors can explore the history of the site and building, and its artistic programs, as a teaser for the main experience inside the Opera House. The Centre is gently carved into the sandstone of the tarpeian wall along existing car parking spaces, increasing accessibility, without altering the building. Inspired by Can Lis, openings of the Centre would frame views of the Sydney Harbour Bridge and the Opera House, while guiding visitors from Circular Quay. The sandstone walls, the construction, the furniture, and pedestrian path is all designed to enhance the experience of arriving at the Opera House, and hopefully offer a deeper understanding of Bennelong Point, and its influence on Utzon's design.
2018 Danish Program
Host Firm: C.F. Møller and Utzon Center
Students: Matthew Burnett, Rose Montgomery, Jaime Painter, Jeffrey Tighe, Daiming Zhu
Original brief
As with many cities around the world, Copenhagen and Aalborg present challenges to finding affordable student housing, while maintaining good living standards with opportunities to both socialise and study. MADE students are asked to create a student residence through a holistic design process, which could be upscaled from a single building block and flexibly assembled and adapted to different sites and settings. The task requires a number of scale steps, from Small to Medium to Large to X-large. Sustainability, integrated design and Utzon's philosophy regarding 'additive architecture' must be considered and the design should be suitable for two sites: a waterfront site in Aalborg Boatyard, and a city centre site in Copenhagen, amid classic karre buildings.

Student approach
Key to our approach was seeking an inherent flexibility in the design which would allow students to personalise their own spaces and build community with other residents. We also sought to maximise the sustainability performance of our scheme through material selection and detailing, and by pursuing an inherently reusable design.

Final proposal
We developed a modular timber scheme comprised of 'tick'-shaped units that could each be used as individual bedroom modules and oriented in two directions, depending on the site requirements. Multiple units could be combined in myriad assemblies to form larger communal spaces such as kitchen and dining modules, toilet blocks and laundry rooms. Modules included supporting pieces such as lift shafts, footings, and inter-module walkways, which together formed a 'kit-of-parts' that could be applied to any site of any scale. We thought it an interesting, adaptable and reusable student housing solution, that empowered students to cultivate their own living spaces and helped catalyse communal connections.
2018 Australian Program
Host Firm: COX Architecture and Meld Studios
Students: Henriette Friis, Rasmus Nøddegaard Hansen, Cuong Van Tran, Sebastian, Glæsel Enevoldsen, Rune Wriedt
Original brief
The task is to activate the Northern Broadwalk of the Sydney Opera House (via the Western and Eastern boardwalks) by designing an Innovation Centre for visitors to the precinct, creating deeper engagement with the building, site history, and the broader context of the Sydney Harbour foreshore. Students were asked to consider the visitors' interactions with the city, precinct, building and the space in their proposal.

Student approach
We carried out user interviews to shed light on perceived defects and possibilities of the public space and the surrounding neighbourhood context to inform our design, along with historical, anthropological, and geographic research.

Final proposal
Our final proposal had two parts: an overarching urban strategy for tying together the waterfront from the Harbour Bridge through Circular Quay, the Opera House Broadwalk and the Royal Botanic Garden – making a cohesive, unbroken public space. More specifically, we designed an access point to the water, a subterranean art space and a learning centre. These attraction points along this harbour front route aimed to interpret and present history, nature, sustainability and upcoming First Nations artists. Our design utilises the natural assets of sun and sea water to technically achieve the desired luminosity and thermal atmosphere of the indoor spaces.
2019 Danish Program
Host Firm: ADEPT Architects
Students: Billie-Grace Dunk, Jack Jeffries, Josephine Nicholas, Tom Dufficy, Nicholas Bucci
Original brief
Students are asked to design a NEW BARN/a multifunctional space at Godsbanen next to the new Architecture School in Aarhus (NEW AARCH). The NEW BARN will be located at a railway goods area, Godsbanearealerne, in the heart of Aarhus, close to the railway station and the city centre – a new neighbourhood with a new identity called 'AarhusK'–K for 'kreativitet, kunst og kultur' (creativity, art and culture). The project must: meet the functional demands; relate to the physical and social context of the site and future users; take learnings from the historic evolution of barns and historic construction systems; consider the integration of structural, environmental, social, and architectural design parameters in one tectonic solution; and focus on sustainability and minimising the environmental impact.
Student approach
Our approach was broken into four stages of 'Collection' where we undertook stakeholder engagement, 'Exploration', where we diverged our thinking, then later 'Development' where our thinking converged through iterative design processes, to finally arrive at the chosen 'Solution'. Drawing from the program's masterclasses, we wanted to address ideas around modularity, sustainability and stewardship while preserving an architectural approach that was sympathetic to the Utzon Design Principles.

Final proposal
The complex matrix of influences, stakeholders and design ideals led us to develop a simple, flexible design for articulating spaces and facilitating interactions with the built and natural environments. We devised a system of CLT frames, rammed earth partitions and operable timber screens, for a building we envisage as a tool for passive education about materiality and sustainability. Central to the design were the stories, movements and journeys of a diverse group of visitors, which lead to a flexible, open design with social / cultural narratives at the forefront of its vision.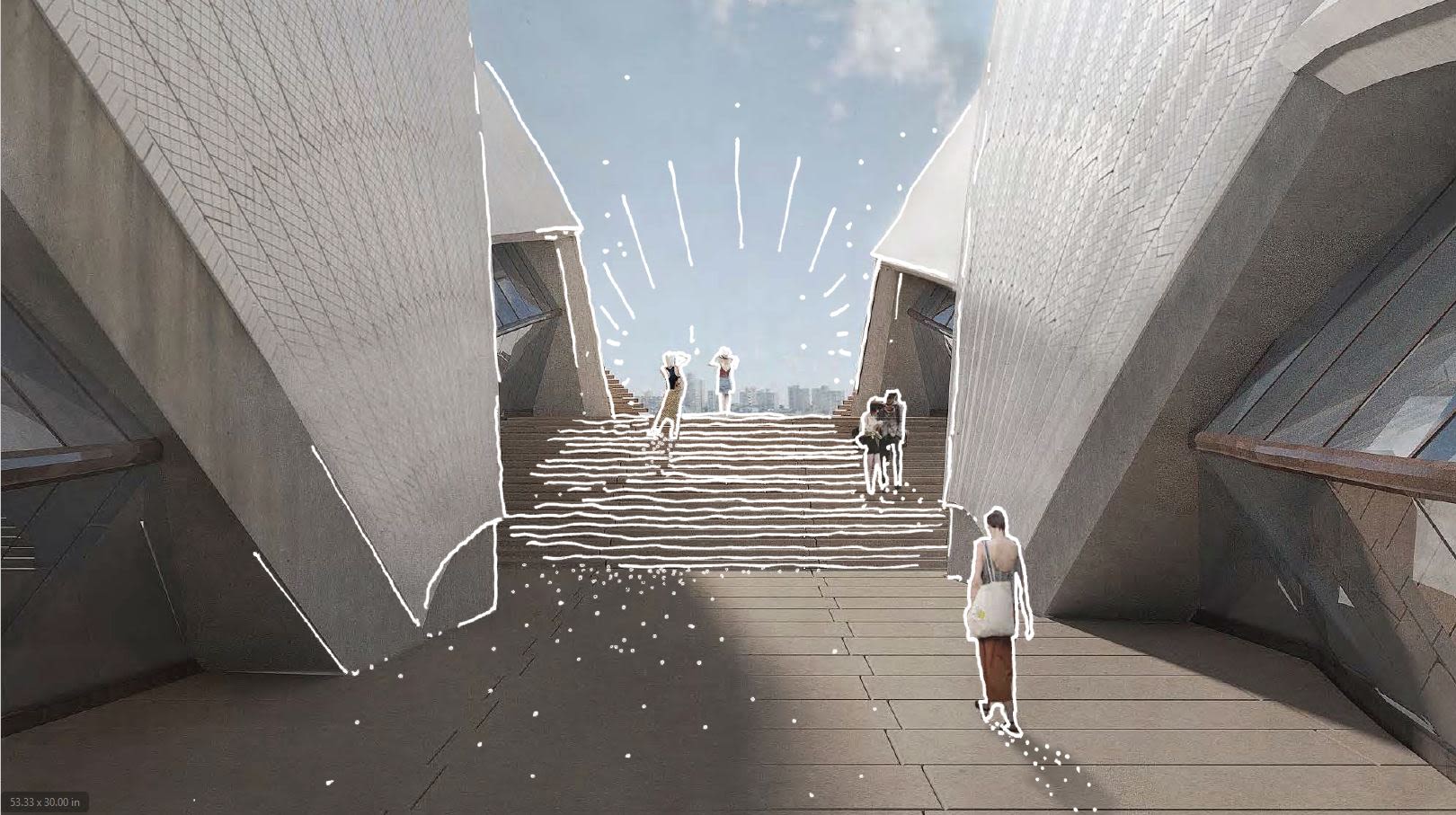 2019 Australian Program
Host Firm: SJB Architects
Students: Andreas Sommer Kjærgaard, Asbjørn Eriknauer, Morten Juhl Stistrup Nielsen, Signe Skytte Madsen and Stefan Ekelund Perriard
Original brief
Consider the vertical ascent from the city to the Northern Foyers of the Sydney Opera House and how those foyers most naturally enhance and enrich the visitor's experience of the Opera House. Students should consider that the urban, spatial and architectural qualities of the journey characterised by Utzon must continue evolving as Sydney changes and the Opera House undergoes renewal. Students should also consider the role of the foyers, their connection to the building, visitor experience and different modes of operation throughout the day and night.

Student approach
Our multidisciplinary approach led to many discussions about the challenges we chose to investigate and why. We used our group's diverse disciplines as 'lenses' to identify and frame opportunities by observing the Opera House through tours, shows, and working closely with stakeholders and staff.

Final proposal
Our proposal centred on reprogramming the foyers to align the architectural value of the building with the visitor experience by integrating a bar within the wooden structure of the Northern Foyers. Drawing inspiration from Utzon's intent, we created an 'outdoor foyer' by opening up the space between the shells. This pathway could extend to the Northern Foyers, enabling all visitors to circumnavigate the shells and fully experience the building.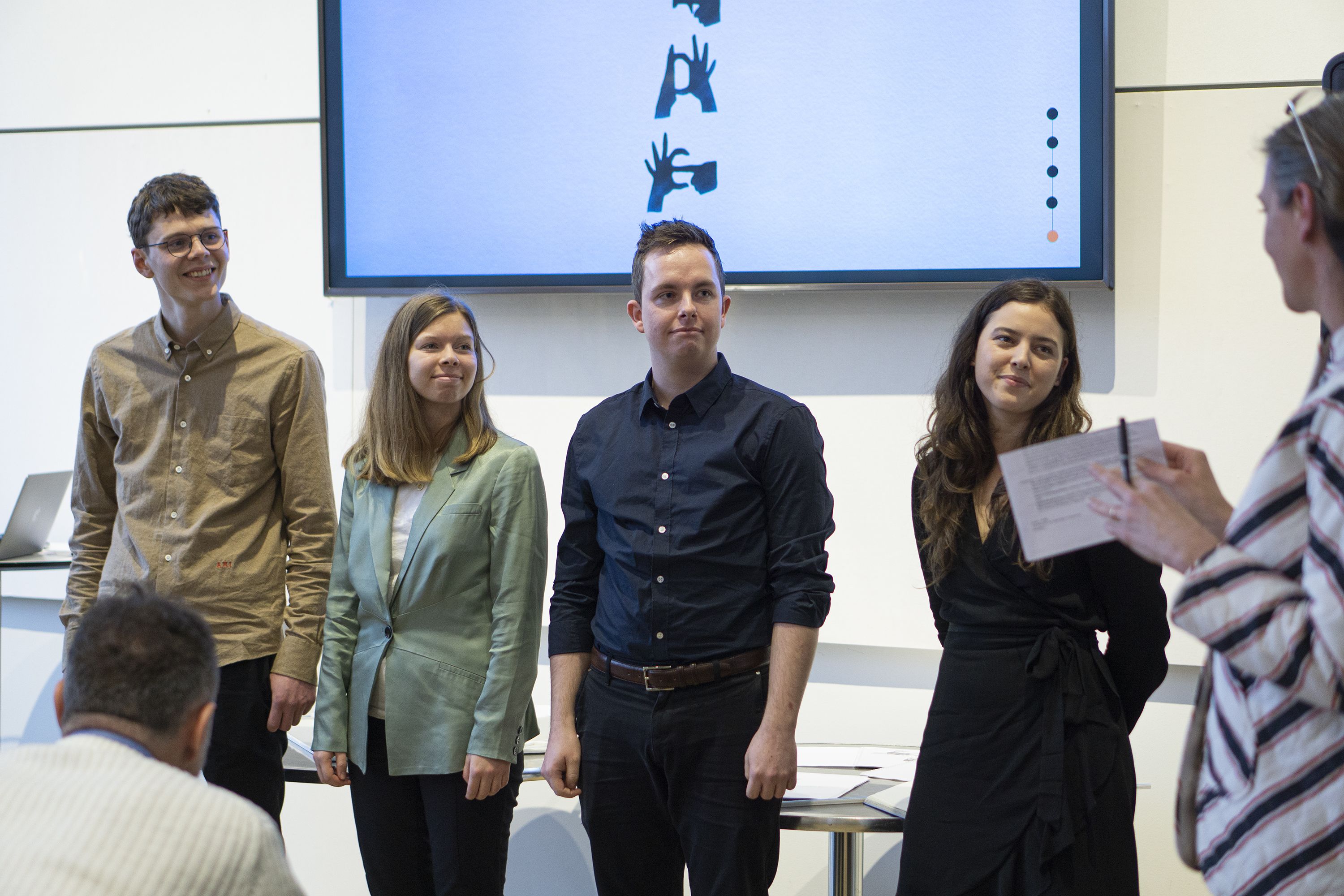 2020 Danish Program
Host Firm: PLH Arkitekter
Students: Aislinn King, Bobbie Bayley, Irene Clark, Muthu Kumaran, Stephanie Palmer
Original brief
Students are asked for a transformative redesign of the Aller Media Building on Havneholmen in Copenhagen, based on principles from the sustainability rating system DGNB and grounded in future scenarios for both 2030 and considering 2050. Key questions to consider are: what are the needs of future workers? How will the work habits of future generations affect how workplaces are organised socially, spatially and culturally? Focus areas included Facade and Layout, Circularity, Context and Functionality.

Student approach
Rigorous site analysis to understand the Aller Media Building's current functionality, a hypothesis about the future of 'the workplace' and demographic forecasting illuminated three main challenges to overcome, all relating to the impact of new technology. To that scenario, we brought the influence of the MADE masterclasses and Utzon's architecture in considering 'space', the ground plane and materiality.

Final proposal
The three main challenges our proposal addressed were:
The omnipresence of technology and the need to continually upskill.
Self identity tied to work.
Increased isolation due to rise of digital nomads and global staffing models.
Our proposal was for a 'People's House' — a mixed-use, cultural, entertainment and collaboration hub within the existing the Aller Media Building footprint, linking work to city, and city to people. Tactical modifications to the ground plane soften the existing promenades and curtain wall, strengthening a pathway from plaza to water's edge. To maintain carbon neutrality throughout these evolutions, we proposed a moulded exoskeleton to cover the building facade. Inside, among flexible floor plates are prototyping facilities, and knowledge sharing hubs as points of contact and collaboration.
2021 Danish Program
Host Firm: ERIK Arkitekter
Students: Amalie Dokkedal Jensen, Elise Aida Cappelen Schultz, Niklas Munk-Andersen, Viktor Lukas Müller Thomsen
Original brief
The overall task is to investigate how to optimise human comfort and experience when renovation a social housing unit. Students were asked to select a unit from an existing social housing block at Nørrebro (Baggesensgade 23), Copenhagen, and optimise this by looking at the facade (structure, openings, materials, tectonics), indoor climate (heating, ventilation, light), space planning (orientation, new functions) and street context.

Student approach
We did a comprehensive site analysis to identify areas requiring attention and improvement, and deliberately chose areas with potential for multidisciplinary collaboration. This fostered engaging discussions among team members, who possessed diverse perspectives and priorities.

Final proposal
As part of our final presentation we developed a catalog of conceptual solutions for each identified problem area. Instead of tunnelling on one grand solution, we identified multiple possible solutions within the urban context, courtyards, stairwells, facades, and corner apartments.
2022 Australian Program
AU Students
Host Firm: PTW Architects
Students: Cedric Danso-Boame, Rhys Grant, Jatin Midha, Linh Nguyen, Arissara Reed
Original brief
Students are asked to answer the question, 'How can we celebrate the Sydney Opera House as a resilient and cultural beacon for a 24-hour city?'.
Themes to be considered include:
Country-centred design - responding to First Nations culture and heritage responsibly and respectfully
Sydney's 24-hour Economy Strategy - aiming for vibrancy, diversity, safety and amenity all day/night
Future-proofing - addressing the UN Global Goals to drive change for our planet and outlook for humanity through responsible decisions about built environment planning and design.
Student approach
Due to COVID, we had the unique opportunity of doing the MADE program in our home city of Sydney instead of travelling to Copenhagen. Our concept was to create a journey around the Opera House broadwalks with distinct and meaningful spaces, and considered opportunities to integrate with the Eora Journey – its physical and emotional connection to water. We mapped the journeys of potential users to inform our thinking, and referenced the Utzon Design Principle – "It is the interplay between the building and its surroundings…that is important."

Final proposal
Our proposal was to make the Northern Broadwalk a distinctive public space, democratic and accessible to all – a destination in its own right, connected to a larger story by adding a series of new experiences, building on the site history and First Nations relationship with the harbour. The new touchpoint, from north to south included the Oyster Walk, Corner Lookout, Harbour Steps and Opera Baths. The Oyster Walk celebrates a staple of the Gadigal people – Sydney rock oysters, and the vast shell middens they deposited at Bennelong Point over millennia. The Corner Lookout proposed a cordoned space under the broadwalk, with tightly framed views out towards the city and Harbour Bridge. Harbour Steps proposed a shallow amphitheatre sunken into the terrace, while the Opera Baths proposed an extension to the terrace stepping down to a public bathing enclosure.
2022 - Australian Program
DK Students
Host Firm: Hayball
Students: Mads Primdahl Rokkjær, Anna Fogh, Natalia Nawrocka, Christina Kjær, Filip Hede
Original brief
Students are tasked with answering the question, 'How can we celebrate the Sydney Opera House as a resilient and cultural beacon for a 24-hour city?'.
Themes to be considered include:
Country-centred design – responding to First Nations culture and heritage responsibly and respectfully
Sydney's 24-hour Economy Strategy - aiming for vibrancy, diversity, safety and amenity all day/night
Future-proofing – addressing the UN Global Goals to drive change for our planet and outlook for humanity through responsible decisions about built environment planning and design.

Student approach
We wanted to create something that connects people with the past, present and future of the Opera House. Inspired by the idea of designing with Country, we looked at ways to forge those connections of past, present and future in relation to nature (original landscape, biodiversity, climate change), people (Gadigal people, visitors, future generations) and design (Utzon Design Principles, DAMANBALAP, future technology and innovation). We particularly explored three of the Utzon Design Principles – Inspiration from Nature, Dynamic Movements and Evoking Emotion through Design – and focussed on attracting people to the site through organised events and encouraging longer stays through spontaneous activities.

Final proposal
We proposed three different spatial experiences:
Underground
Steps to the Water
Centre for Community.
Underground was conceived as a sensory journey into nature, where a forest of columns offers up different views and connections to sea, land and sky. A low, cave-like space, flooded during high tide and inaccessible – a reminder of nature's cycles and also of climate-change induced sea-level rises. Steps to the Water was about direct connection to the harbour at the northern broadwalk and the Underground. Its shape resembles a performance platform, echoing what is happening inside the building. Centre for Community opened the façade, turning office space over to the public for performances, exhibitions, workshops, sheltered seating area, or remote office area.
2023 Danish Program
Host Firm: Henning Larsen Architects
Students: Anastasia Uricher, Katherine Lewer, Mia Evans-Liauw, Rachel Liang, Paris Perry
Original brief
Students are asked to investigate the harbour area Kalvebod Brygge in Copenhagen and propose an urban transformation strategy, including a proposal for transforming one of its existing buildings (focussing mainly on the ground floor). The overall focus is to create a socially inclusive and environmentally sustainable urban area that connects to the surrounding city, making it accessible and relevant for the greater Copenhagen. The task is divided into three distinct scales: urban scale, building scale, human scale.
Student approach
Our approach was to revitalise natural spaces within a heavily built-up environment. We saw an opportunity to create spaces not currently seen in the harbour-front typology, something that celebrates the diversity of people and those who seek refuge, while also caring for native species in the area.

Final proposal
At the urban scale, we proposed reclaiming two lanes of the Kalvebod Brygge highway and excess car parking to improve the green links on site, and better connect the site to its city. At the building scale, existing structures would be transformed to tackle issues of privatisation of the harbourfront by including a community centre and cafes. At the human scale, we proposed a boardwalk extension, mixed-use floating pods and floating wetlands as places of refuge for more reserved harbour goers.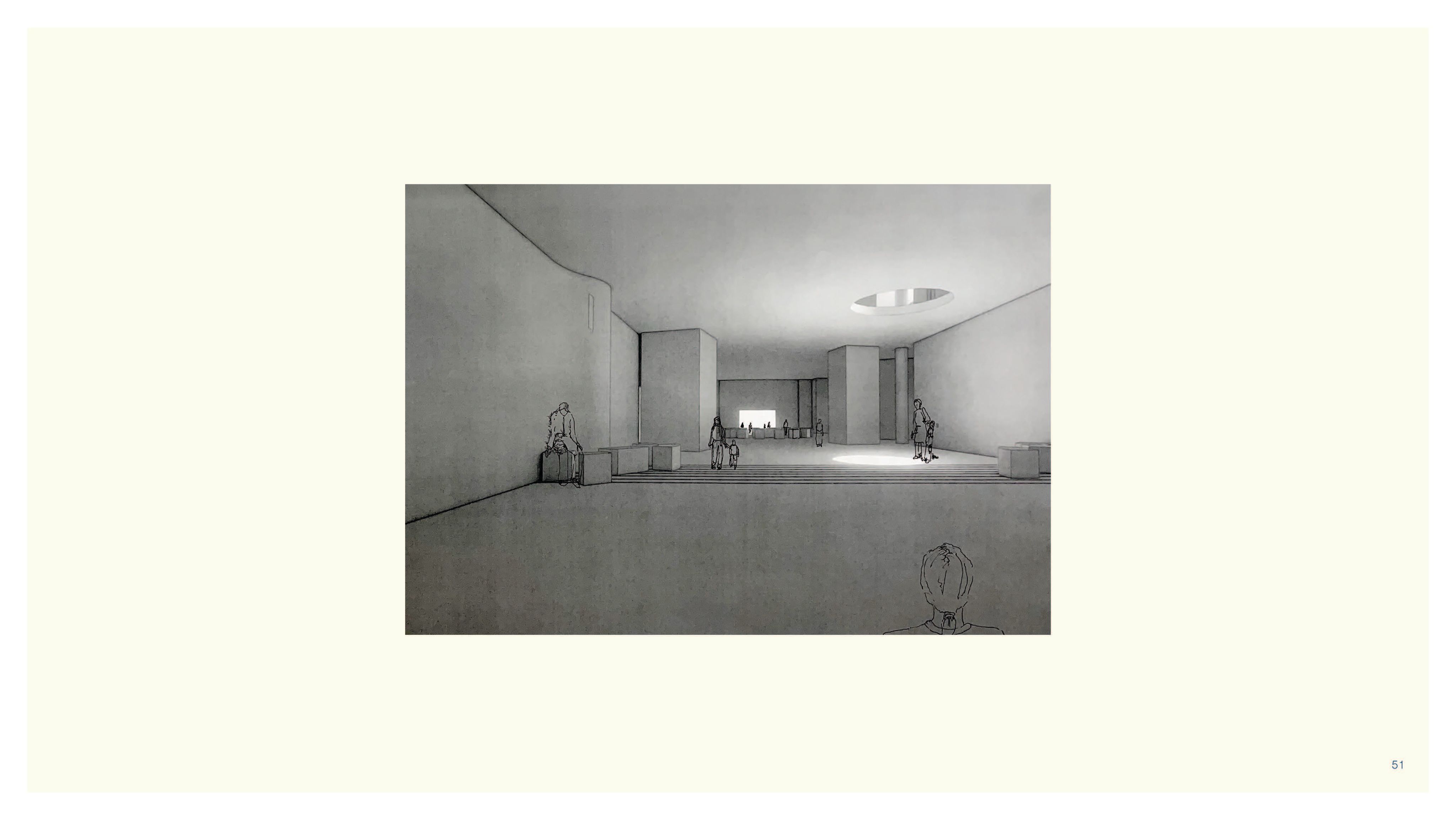 2023 Australian Program
Host Firm: Grimshaw
Students: Christoffer Brødsgaard, Marie Jul Scharff, Astrid Bjørn Dønnem, Isac Lindberg, Ditte Gyldendal Amby
Original brief
"How can the adaptation of the Central Passage foster the transformation of the Sydney Opera House to 'Everyone's House'?" Utzon originally envisioned the Central Passage of the Sydney Opera House as a publicly accessible covered street that connects to the Northern Broadwalk and harbour beyond. This vision has been discussed and prototyped, but never realised. Students are asked to to transform the Central Passage into a place that connects to existing public spaces in the Precinct through spatial transformation and programmatic interventions that may be continually adapted to suit the needs of different audiences and performative and creative experiences.
Student approach
We spent a long time uncovering the problem. Uncovering who everyone was, why people went to the Sydney Opera House and who is missing, and doing interviews on site to see how visitors interact. We created our Utzon and Country centric values. In our design response, we drew inspiration from what we learned about Country, the Utzon Design principles and unrealized designs.
Final proposal
By rethinking the Central Passage as "The Meeting Point" open to the public, we hoped to invite everyone in. It would be a meeting point between visitors and performers, the indoor and outdoor, two heritages, and of MADE projects. We acknowledged that Country is living and can be adapted through adaptable seating arrangements that change to fit the various programs we planned throughout the day and night. A performance venue for late hours and new emerging artists, but also a place of rest from the heat and sun of the outdoors during the day.
Alumni Reflections
"I am continually applying the MADE program's learnings in sustainability, multidisciplinary collaboration, and global perspectives in my work. I integrate sustainable practices into urban planning, collaborate with diverse and non-traditional disciplines, and consider local contexts in my designs. These learnings have greatly influenced my approach, allowing me to create inclusive and environmentally conscious urban solutions."
- Robert Martin, Danish Program 2014, Architecture

"My passions in architecture have pivoted to focus on eco-centric and inclusive design, which was heavily influenced by our MADE project in Copenhagen"
- Rachel Liang, Danish Program 2023, Architecture

"As a Danish student, the history and view of life from Country was truly inspirational and can in Denmark be translated to the acknowledgement of what was there before, and who owns the land on which we build. I think it is a healthy way of considering our nature, and a reminder to design with respect and decency whenever we make changes."
- Christina Kjær, Australian Program 2022, Architectural Engineer
Partner and Stakeholder Reflections
"The Sydney Opera House is one of the most brilliant experiments you can imagine. This program treats it as the source of inspiration it should be - for architects, engineers, designers, builders, artists and everyone beyond."
- Louise Herron AM, CEO, Sydney Opera House, June 2023

"Some of the extraordinary designs that are created when not constrained by pre-conceptions or bias have been really thought-provoking."
- Arup, June 2023

"The Australian students presented well thought through proposals, very convincing and were successful at delivering an argument backed by the process of how they got there. By the end of the presentation, we would say 'well yes, that's exactly how it should be solved!' "
- Christen Obel, June 2023
"It's always invigorating to see how young people approach a problem and it gives me a lot of confidence in how they'll handle the future… It's so nice to see all of the things I've been passionate about and that other people can be passionate about and carrying it on. It feels like it's safe to hand over the baton!"
- Conservation architect Alan Croker, 2018